Raw Vegan Bread Recipe
Soft and Spongy Just Like Cooked Bread!
Raw Vegan Bread Recipe
Soft and Spongy Just Like Cooked Bread!
When you go raw vegan, there may be a few things you miss. Bread could be one of them. The moist, soft base to your favorite sauce or spread. You may thing that there is no longer a way to enjoy that delicious texture in your mouth. Until now. This raw vegan bread recipe resembles bread so much that you will never miss cooked bread ever again.
It is extremely nutritious: it includes both omega 3 fats (from the chia seeds), cruciferous vegetables (the cauliflower), and plant-based protein. A complete package.
The funny thing is that I came up with this recipe completely accidentally. I learned that adding chia seeds and psyllium husk to a "pastry" recipe makes the pastry extremely fluflly and moist. And I had a whole bunch of cauliflower. So I just threw in everything to the food processor, and this was the result. I knew I had to share it with all of you.
Use These Amazing Sauces to Smother on Your Bread
I have been loving eating this in the evening with my salad, or with a delicious nutty and vegetable-rich spread smothered all over it. Any dip, spread, or sauce will make this bread even more amazing. Download the recipes for 3 of my favorite delicious, oil-free raw vegan spreads/sauces to use with this bread.
• 1 whole cauliflower about 9 cups
• 1 teaspoon turmeric powder
• A pinch of black pepper
• 4 teaspoons smoked sea salt optional
• 2 tablespoons chia seeds
• 1/2 cup psyllium husk
• 1/2 cup nutritional yeast
• 4 cups chopped zucchini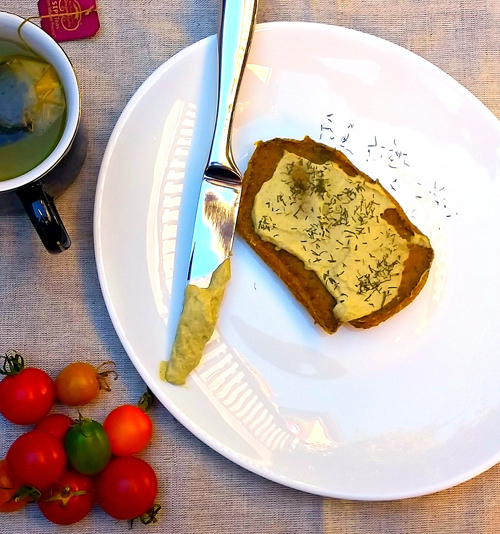 1. Put zucchini in your food processor, and pulse until completely broken down.
2. Add cauliflower (preferably chop beforehand for easier processing).
3. Pulse a few times until well combined. You do not need to bring it down completely – the cauliflower pieces are delicious inside of the bread slices.
4. Add the rest of the ingredients (and mill the chia seeds in the coffee grinder right before adding).
5. Process to incorporate.
6. Form mixture into bread slices on your dehydrator sheets (see video for how to do this). The mixture will be jelly, so it will be very easy to do. Use your spatula to do this.
7. Dehydrate for 6-7 hours. If you want 1 side to be soft, 6 hours is enough. You can also flip the slices half-way through.
8. Smother with your favorite vegan sauce and enjoy.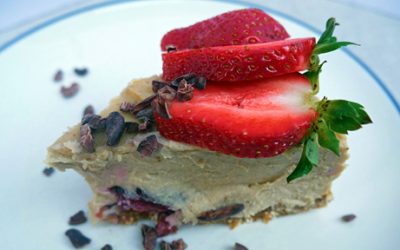 Servings:  8 This 6-ingredient vegan cheesecake is about to BLOW YOUR MIND. It is one of the best, most delicious recipes I have ever created, and I made it accidentally! I guess that's how all the best recipes come to life, right? On Tomer's birthday, I made a feast!...