THE BEST Vegan Cheesecake Recipe
White Chocolate Cheesecake
THE BEST Vegan Cheesecake Recipe
White Chocolate Cheesecake
This 6-ingredient vegan cheesecake is about to BLOW YOUR MIND. It is one of the best, most delicious recipes I have ever created, and I made it accidentally! I guess that's how all the best recipes come to life, right?
On Tomer's birthday, I made a feast! I will have a blog coming out very soon with all the delicious things I made for him. And I had all these cashews soaking, so I figured I should try to make a cake with them, on the fly.
Who knew that just 6 ingredients would make literally one of the best vegan cheesecake recipes I have ever made?!?!?!
Vegan Cheesecake Recipe: Sweeteners
What I love most about this incredible vegan dessert is that it's raw vegan, oil-free, and even refined sugar-free. I am not using any artificial sweeteners or empty-calorie sweeteners in this vegan cheesecake.
Did you know that maple syrup and all the other sweeteners haled by the food industry to be healthier alternatives to white table sugar are just basically empty calories, just like white sugar?
Yes, yes I was very sad to find that out too, trust me. However, just like I successfully show you how to eliminate oils from your diet without losing out on delicious flavors in my amazing online course, I have done the same with desserts!
The best sweetener you could ever use is dates. They have fiber, carbs, protein and fat, they are sweet as can be, and a whole food sweetener that is actually nutrient-dense. A real food sweetener!
Not saying you should avoid all sugar at all times. You can have a little treat every once in a while. However, try your best to rely on dates in most sweet things you eat, because this will train your taste buds to adjust to their natural sweetness, and not crave the other artificial sweeteners.
Now, I want to show you how you can easily use dates to create a creamy, rich, flavorful and oh so delicious and simple raw vegan cheesecake!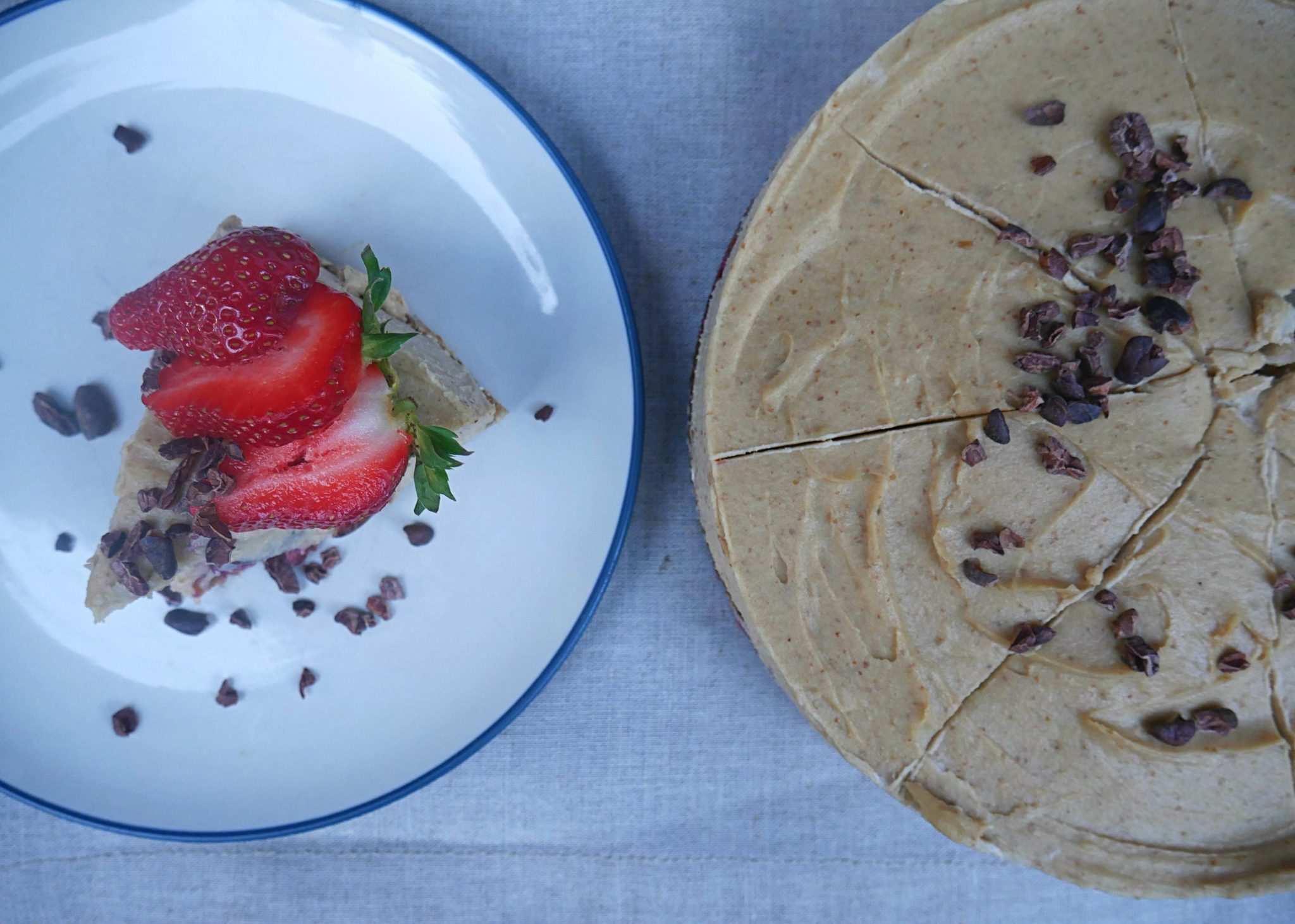 This vegan cheesecake is so delicious, that one slice will get you as full as can be. While it is full of nutrition, it is also full of fat. So don't go over-indulging
However, it is a perfect treat as it is made with only 6 simple, whole food ingredients. Any cheesecake lover will fall in love with this raw vegan white chocolate cheesecake!
And my favorite part is that it's extremely simple to make! Just make sure to follow the steps exactly, and to watch my video so that you know what to do:
For the crust:
• 1.5 cups rolled oats
• 3 cups deglet nour dates, tightly packed (about 60 dates)
• 1 cup frozen cherries (or any other berries of your choice)
For the white chocolate filling:
• 3/4 cup melted coconut butter
• 3 cups cashews, soaked overnight
• 20 Medjoul dates (about 1.5 cups)
• 1 cup filtered water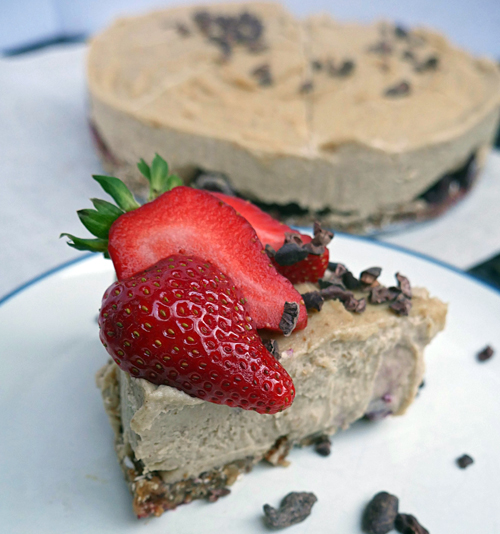 1. For the crust:
Add dates and oats to a food processor, and process until they break down well. You can know if the mixture is sticky enough by squeezing it between your hands – it should stick well together.
2. Line the bottom of a small (about 8 inch wide, or 20 cm) round spring-form pan with saran wrap (it will make it easier to take out the cake).
3. Press the crust into the bottom of the pan.
4. Press the crust into the bottom of the pan.
For the filling:
1. Soak cashews in water overnight. Discard water, and rinse them well.
If the dates you are using are not soft enough, soak them in the 1 cup of filtered water and use both in the recipe to make it easier to blend.
2. Melt your coconut butter. Easy instructions in this video.
3. Blend all ingredients together really well. Make sure you put the water at the bottom. Use the tamper of your Vitamix to blend well.
4. Taste the mixture, and make sure that it is smooth enough. If not, continue blending until no pieces of cashew remain.
5. Use a silicone spatula to scoop out the contents onto the crust, and freeze for about 2-3 hours, or until the crust is completely hard.
6. Take out of the freezer about 15-20 minutes before serving, so that it's easier to slice.
Recipe Notes
Note: sub oats with nuts (like almonds, pecans, or walnuts) for completely raw vegan version.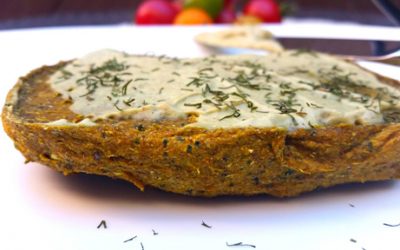 Prep Time: 15 Minutes Cook Time: 7 hrs Total Time: 7 hr 15 mins Servings:  3 When you go raw vegan, there may be a few things you miss. Bread could be one of them. The moist, soft base to your favorite sauce or spread. You may thing that there is no longer a way to...