Vegan Pizza Recipe
Healthy, Oil-Free, Gluten Free, and Mexican-inspired
Vegan Pizza Recipe
Healthy, Oil-Free, Gluten Free, and Mexican-inspired
I admit it, I never believed that vegan pizza could be healthy and taste amazing. I also always thought that vegan pizza dough requires really processed ingredients for that authentic taste we are all used to.
And then I discovered this amazing idea of using quinoa and water (2 INGREDIENTS!) to make a vegan pizza crust. Would you ever believe that these 2 ingredients make an authentic, delicious-tasting thin crust pizza?
So this crust idea was definitely not mine. I borrowed it from Megan Elizabeth (her recipe here), who also borrowed it from someone else. But you know what? Recipes are never truly original – we always borrow and inspire one another, so that's pretty awesome.
However, I did make up the incredible toppings for this Mexican-inspired vegan pizza, and I think you are going to love them! This is one of the most genius recipes I have created in a long time, and I literally want to eat it every single day with different variations.
For the Crust
• ¼ cup quinoa soaked overnight in filtered water
• ¼ cup water fill it 3/4 of the way to the top – not a full 1/4
For the Tomato Sauce
• 1 cup fresh tomatoes chopped
• 1/3 cup sundried tomatoes not soaked in oil; make sure it only has tomatoes and salt in the ingredients, soaked ahead of time for 30 minutes if very dry
• 1 clove garlic
• 1 tablespoon chili powder
• ¼ teaspoon Himalayan pink salt only if necessary, taste test before adding, especially if you're using salty sundried tomatoes
• 1 Medjoul date or 2 Deglet Nour dates
• 2 teaspoons coconut or apple cider vinegar
For the Avocado Cream
• ½ soft ripe avocado
• 1.5 tablespoons lime juice freshly squeezed
• ½ cup chopped zucchini
• ¼ cup chopped cilantro
• ¼ cup filtered water
• ¼ teaspoon sea salt
Toppings
• Fresh chopped cilantro to taste
• ¼ cup fresh or frozen corn kernels
• 1 jalapeno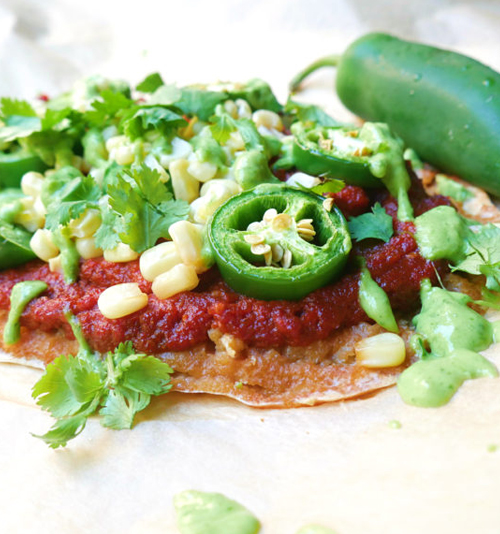 For the Crust
• Preheat your oven to 400F.
• Rinse and drain quinoa really well, and discard the soaking water.
• Then, place quinoa and filtered water in a blender and blend until very smooth.
• Pour onto a parchment-paper lined baking tray. Don't worry if it doesn't make a perfect circle.
• Bake for 15 minutes.and drain. 
For the Tomato Sauce
• Place all ingredients in a blender and blend to your desired consistency. I like my tomato sauce a bit chunky.
• Take the crust out of the oven, carefully flip it so that the browned side is facing you. Smother all of the tomato sauce onto the crust, and later corn and jalapeno on top.
• Place back in the oven for another 15 minutes at 400.
For the Avocado Cream
• Blend all ingredients until entirely smooth. You may have some leftover, but it's very hard to blend if you use half the amount. I suggest just making another pizza, or using it as salad dressing on the side.
• Take the pizza out of the oven, drizzle with avocado cream and chopped cilantro.
Recipe Notes
Adapted from Megan Elizabeth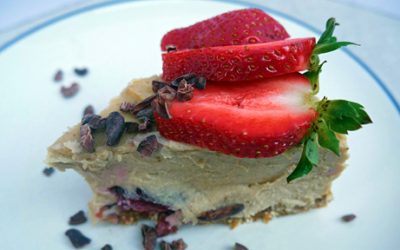 Servings:  8 This 6-ingredient vegan cheesecake is about to BLOW YOUR MIND. It is one of the best, most delicious recipes I have ever created, and I made it accidentally! I guess that's how all the best recipes come to life, right? On Tomer's birthday, I made a feast!...