Chocolate Almond Lavender Cookies Recipe!
Greetings Chocolate and Cookie Lovers!
Chocolate Almond Lavender Cookies Recipe!
Greetings Chocolate and Cookie Lovers!
Celebrate the holiday season and warm up your kitchen by baking Chocolate Almond Lavender Cookies. These lovely bitter-sweet cookies are super yummy, easy to make and they make a great holiday gift too!
• 1 Stick sweet butter melted and cooled at the room temperature (vegan version use Earth Balance butter)
• 1/2 almond milk room temperature
• 1/3 Cup sugar
• 1/2 Cup cocoa powder (unsweetened)
• 1 1/2 Cups spelt pastry flour
• 1 Cup lightly toasted almond slivers
• 1 Tsp. organic culinary lavender flowers
1. In a food processor mix almond milk, melted butter and sugar. Let it stand for about 10 minutes for the sugar to dissolve, then pulse a few more times.
2. In a bowl mix flour, lavender flowers and cocoa powder. Then, gradually add to the mixture in the food processor and pulse a few times, until they form a coarse mixture. Do not over mix because it makes the dough tough and cookies will come out dense.
3. Add almonds and pulse 4 times.
4. Empty the mixture on a lightly floured surface (kitchen counter works just fine, not the titled kitchen counter though, it has to be a flat surface).
5. Gather up the dough and knead 2 or 3 times. Next, flatten the dough into a disk, wrap in plastic and refrigerate for 30 minutes.
6. Preheat oven to 375 °F.
7. Take out the cookie dough from the fridge and roll it out on a lightly floured flat surface (1/2 inch thick), cut out cookies with a 2 inch round mold and place them on a cookie sheet (cover cookie sheet with parchment paper 1st). You can also sprinkle a tiny amount of sea salt, this is optional, but I do that because it makes these cookies even more decadent!
8. Bake for 12-15 minutes.
9. Remove cookies to a cooling rack and let it cool for an hour before eating, serving or packaging.
Lavender Design + Cuisine


Personal chef services featuring organic, seasonal, local and sustainable Vegetarian/Vegan Mediterranean gourmet cuisine prepared in your kitchen and tailored to your personal taste.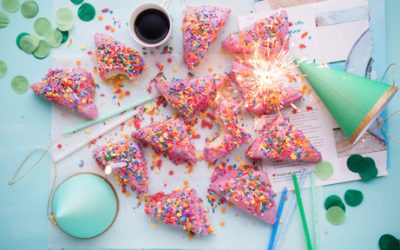 While we still feel stuffed from all the parties and holiday feasting, most of us make New Year's resolution to eat healthier and to be fit in the coming year. We start out with good intentions but some of our resolutions seem to be hard to achieve, and it's easy to...