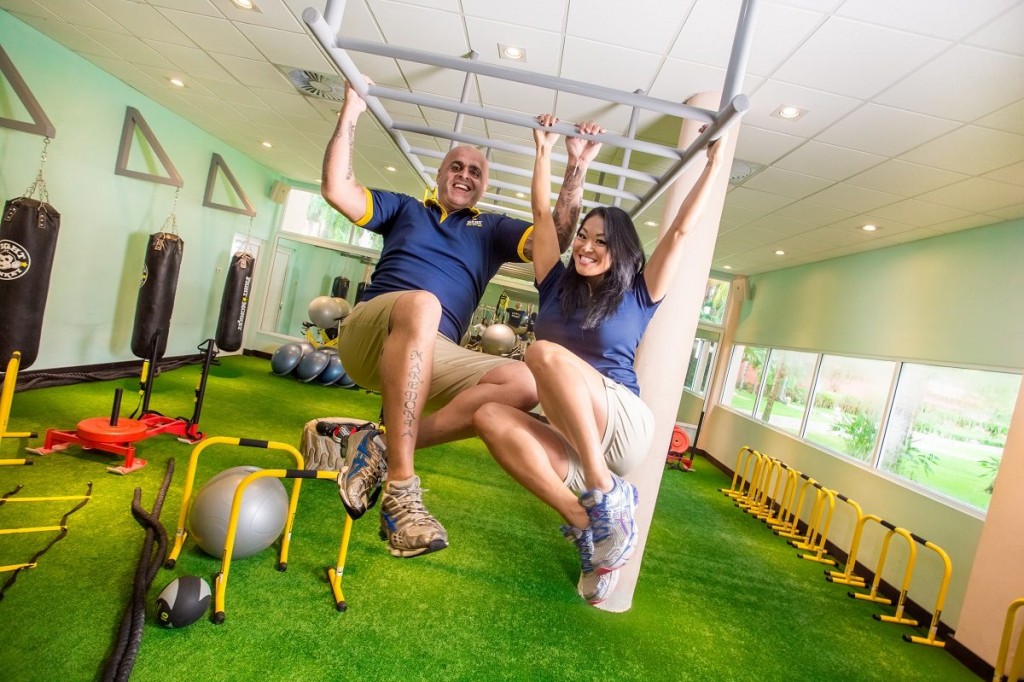 Vacations are ultimate cheat days. Going to a resort with pristine white sand and azure waves lapping at your feet will make you forget your routines back home. The thing is, when you're in paradise, who is thinking about working out? With this kind of cloud-nine mood, how can you resist the resort's offerings of mouth-watering local and international delicacies? That might seem okay while you're on vacation, but you're likely to wallow in self-loathing once you're back home and you've discovered you've gained ten pounds!
This is the dilemma we always encounter whenever we go on vacation. More luxurious hotels mean a higher tendency of compromising our fitness goals.
However, we had that one experience that changed our vacations forever. We discovered the Star Fit & Fun experience at Iberostar Grand Hotel Paraiso during one of our trips to Mexico. We were awestruck! We've never come across such an excellent program in any 5-star hotels we've ever been to. We didn't think it was possible to blend pleasure and fitness this perfectly. And in case you've not been informed, Iberostar hotels and resorts are all-inclusive, so you don't have to pay for your meals and on-resort entertainment. And by entertainment, Star Fit & Fun is included! Despite the fact that Iberostar is already providing guests with more than what they bargained for, this resort spared no expense in partnering with two incredible trainers.
We met George and Belinda, the world-renowned fitness directors of Star Fit and Fun. Even if you're not a fan of fitness, knowing their qualifications will tempt you to start working out right away. George is a professional mixed martial arts instructor, while Belinda is an IFBB professional. In case you're wondering, IFBB stands for International Federation of Bodybuilding and Fitness. This couple – yes they're married – have more than thirty years of professional experience in fitness. If that is not the epitome of fitness expertise, then we don't know what is. It's not only their qualifications that awe you, but also it's their entire Star Fit & Fun staff. Everyone is so nice and helpful that you'll feel so comfortable working out here.
We would be remiss as not to mention the state-of-the-art facilities and equipment this gym possesses? You'll be hard pressed to find a better gym facility more complete than this place, never mind a resort gym. Saying that this is the best-equipped gym we've ever laid eyes on in a resort is still an understatement.
They offer various programs that made our fitness-oriented eyes pop out with glee. You can choose Zumba-Fit where you can dance your way to that perfect beach body, Spinning, Kickboxing, Yoga, Pilates, TRX and kettlebell, and even Bootcamp, which is not for the faint-hearted. We loved all of the programs! However, that's not all there is to it. You can even take your fitness with you to the beach. You can do yoga by the waves and is there anything more serene than the rhythmic sounds of the waves against the shore? We think there's no better environment for meditation – with only the sun, sand and sea. You can also do Zumba Fit by the beach. They also offer another fitness program, Aquafit where you'd be half submerged in the pool as you work out. It was so much fun and refreshing. If you are not convinced yet, catch a glimpse of how these programs are conducted through this video.
We loved this fitness program so much that we wanted to accompany it with our green smoothies. Here's a video we made with George and Belinda, trying out Green Regimen's healthy multivitamin green smoothie powder. Don't we just look fit and awesome? We think that the combination of Star Fit and Fun and our Green Regimen smoothies simply complement each other too! It would be so wonderful to hit the gym and refresh yourself with our healthy and delectable smoothies.
Don't let yourself go just because you're on vacation. Maintain that physique you've worked hard for. If you haven't worked out in your life however, there's no rule about starting your workout and fitness regimen while you're on vacation. Give it a go with Iberostar's Star Fit and Fun experience and give it a chance to change your life forever.
How soon do you plan to book a vacation trip to Iberostar and work out with George and Belinda?