Raw Vegan Cheeseball Recipe
Vegan Christmas Recipes
Raw Vegan Cheeseball Recipe
Vegan Christmas Recipes
Welcome to the Vegan Christmas Recipes series! Firstly, in part 1, we are making a delicious oil-free vegan cheeseball, and raw vegan, refined-sugar free chocolate pom-poms.
And we have a new guest here on the blog, who will be making this first part of the vegan Christmas recipes for you! And he is none other than my beloved partner, Tomer.
While you've probably already heard of him, you have never seen him in any of my videos. While it was a pretty big feat to get him to come on, I believe he did an awesome job, and he is sharing some of the most delicious foods my little mouth has ever tasted!
Tomer is not an extrovert like I am, but you'll be surprised to know he is quite a babbler when the two of us are alone (to my dismay, as I am a babbler myself and we find ourselves competing for talk time sometimes…)
I'm super stoked that he has chosen to share these two vegan Christmas recipes in his first guest appearance, because they represent exactly what he usually makes for me: cheese and dessert.
When I think about it, I am one lucky girl, because those are my two favorite things, and he is extremely skilled at making them.
Although we have never celebrated Christmas (we are Jewish), you can be sure that we will be devouring these recipes throughout the year, and so should you! Because they are divine. easy to make, and relatively healthy (they are pretty fatty, so don't go in and eat the whole thing by yourself, but at least they are refined sugar and oil-free!)
Next week, I will be sharing 4 more recipes for mains and drinks for our part 2 of the vegan Christmas recipes series, so be sure to check that out in a week! And now, let's make our vegan cheese and chocolate pom-poms!
This raw vegan cheeseball recipe is probably my most favorite cheese that Tomer has ever made! (And that's a lot to say, because he is truly a master cheese maker). I love it because most vegan cheese recipes require you to wait about 24 hours until they harden, while this one is ready in just a couple of hours! If you are a die-hard cheese fanatic like me, you are going to adore this recipe for sure.
If you don't celebrate Christmas, like us, you are still definitely going to enjoy smothering this cheese on crackers, or putting pieces of it in your salads. But I do caution you – do not make this whole batch and intend to keep it in the fridge and eat a little at a time. This stuff is quite addicting, because it is so, so good. And unlike most of my other recipes, I don't think you should eat this entire one in one go!
This cheese is creamy, rich, and packed with some good stuff too, like turmeric and black pepper in their raw, anti-inflammatory form! It's perfect as an appetizer at a big party, which you can serve with veggie crackers, and it's also perfect in lasagna, pasta, or in any other dish that uses cheese.
• 2 cups cashews soaked overnight in filtered water
• 1/3 cup nutritional yeast
• 1 tsp Himalayan sea salt
• 1 tbsp lemon juice
• 2 tbsp sauerkraut juice (or replace with water and add more salt to taste)
• 1/2 tsp turmeric powder
• 1/2 tsp kala namak
• ¼ cup coconut butter
• ¼ cup mixed sunflower and pumpkin seeds for decoration
• A pinch of black pepper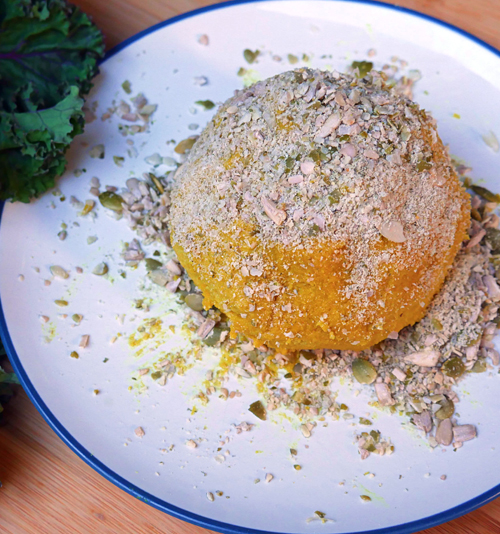 1. Soak cashew overnight, covered with filtered water. Remove from soaking water, rinse and drain. 
2. Add cashews, nutritional yeast, salt, lemon juice, sauerkraut juice, turmeric, black salt, coconut butter and black pepper to a food processor, and process until very smooth. You may need to stop mid-way and scrape the side with a spatula to get everything evenly processed.
3. Take the mixture out of the food processor, and form into a ball-like shape. It doesn't have to be perfect – we will form the final shape after it's refrigerated.
4. Refrigerate for about 1 hour, or until the ball hardens somewhat. Take out of the fridge, and roll into a ball in your hands. It should be very easy to do so at this point.
5. Optional: grind up some seeds (we used sunflower and pumpkin) until pretty fine, but not a powder. We used a magic bullet to do this. Then, stick on the outside of the ball for decoration.
Recipe Notes
Make your own sauerkraut with this recipe, and use the leftover liquid, or buy store-bought raw sauerkraut (I like WildBrine brand).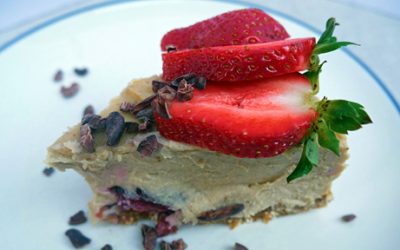 Servings:  8 This 6-ingredient vegan cheesecake is about to BLOW YOUR MIND. It is one of the best, most delicious recipes I have ever created, and I made it accidentally! I guess that's how all the best recipes come to life, right? On Tomer's birthday, I made a feast!...