This Vegan Apple Crumble Cake is the ultimate summer breakfast treat. It is filled with fresh peaches and topped with an irresistible nutty and crumbly topping. On top of that, it is full of protein from adding our delicious Elite Protein to the mix. It's perfect for a sweet morning and it's also great for dessert.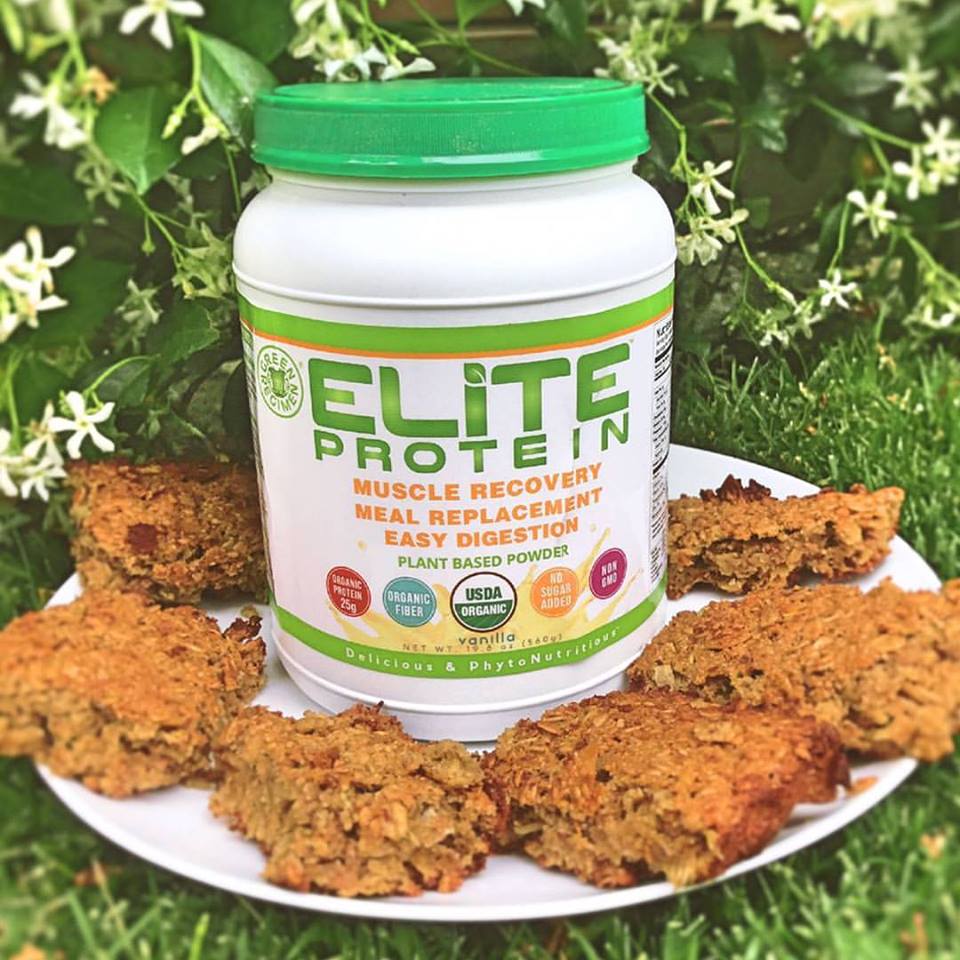 Ingredients
Cake:

1 

cup almond milk

1 

teaspoon apple cider vinegar

1/2 

cup organic sugar

1/3 

cup melted coconut oil

1 

teaspoon vanilla extract

1 1/4 

cups unbleached, all-purpose flour

1 

teaspoon baking powder

1 

teaspoon baking soda

1/4

teaspoon sea salt

1 

teaspoon ground cinnamon

1 

cup peeled, diced ripe apples

1 scoop of Elite Protein in Vanilla
Crumble topping
3/4 

cup unbleached, all-purpose flour

1/3 

cup chopped walnuts

1/3 

cup packed organic brown sugar

1/2 

teaspoon ground ginger

1 

teaspoon ground cinnamon

1/8 

teaspoon salt

4 to 5 

tablespoons coconut oil
Procedures
Pre-heat oven to about 350° F. Lightly oil an 8-inch square baking dish.

In a medium-sized mixing bowl, whisk together the apple cider vinegar and the almond milk vigorously until the mixture forms a froth. Let it to sit for a few minutes. Then add the sugar, coconut oil, and vanilla extract.

In a large mixing bowl, mix the flour, baking powder, baking soda, cinnamon, and salt. Add the wet ingredients to the dry ingredients and mix until they're just combined, adding a little more almond milk if necessary. Add in the diced apples and pour the batter into the baking dish.

For the last ingredient, add 1 scoop of Elite Protein Vanilla Powder.

For the crumble topping, place the flour, walnuts, sugar, ginger, cinnamon and salt in a small bowl. Work the oil with your fingers, one tablespoon at a time. Continue working until large crumbs form. If possible, you can also mix the ingredients together in a food processor if you have one.

Spread the crumble topping over the coffee cake. Bake for 35 to 40 minutes, or until the topping is fragrant and toasty and a toothpick inserted into the cake comes out clean.
Have this cake and eat it for breakfast, or have it with tea in the afternoon. You will surely feel a burst of nutrition and flavor with every bite. Let us know if you liked it by leaving a comment below!