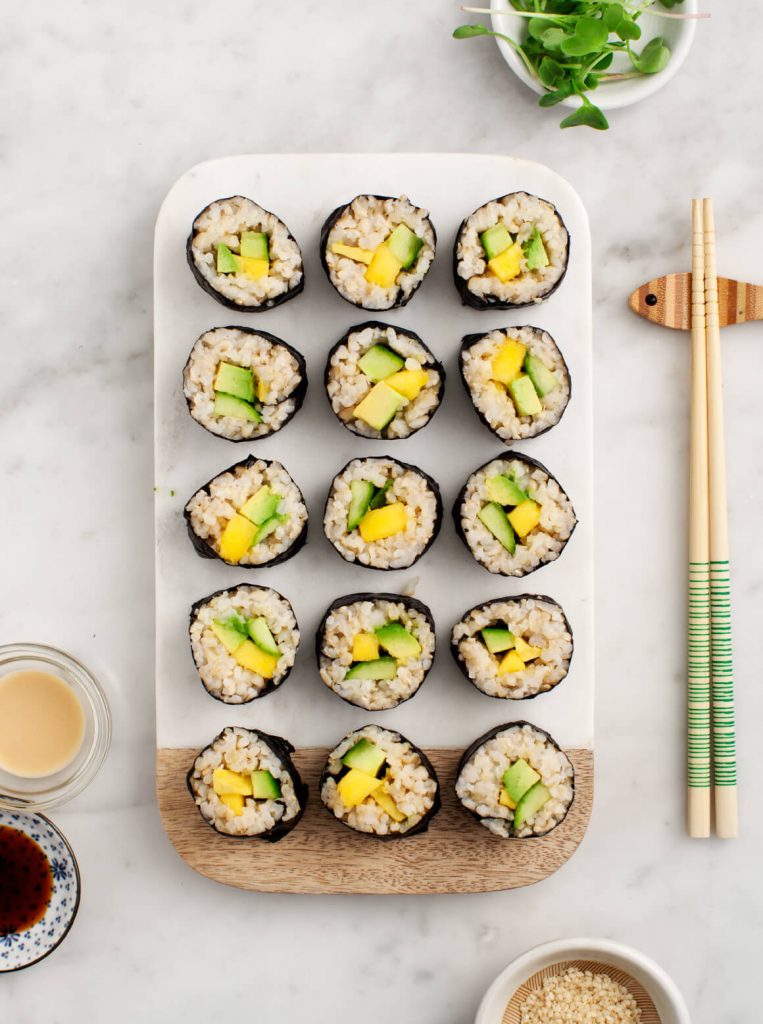 When you are on a plant based diet, you need to be really creative to spice up your recipes and this Organic vegan Sushi roll recipe is exactly that: creative and spiced up!
Do you have to give up on sushi for the sake of your new weight loss diet regimen?
If you love sushi but you have shifted to a plant based diet, you don't need to worry! You can still enjoy sushi! In fact, you can even make some from home.
Here's the Organic Sushi Roll Recipe that we love packing into our lunchboxes. It's easy to make and you can even replace the ingredients with other organic vegetables to suit your preferences!
The first thing you need to secure is a bamboo mat. You can usually find this in any Asian store! The bamboo mat makes shaping and rolling easier.
Things You Need For This Easy Vegan Sushi Roll Recipe
1 cup of cooked organic brown rice
A pinch of salt
4 tablespoons pure sesame oil
1 tablespoon sesame seeds
3 pieces dried seaweed (nori/kim)
For the Filling of this Vegan Sushi Roll Recipe, You will need:
1 ripe organic mango
1 ripe organic avocado
1 organic cucumber
1 cup fresh radish sprouts or pea shoots
For the dip:
4 tablespoons of organic soy sauce substitute combined with a pinch of wasabi (you may add more until you reach your desired flavor)
For the topping:
Wasabi Mayo ( Add 1 teaspoon of wasabi to ½ cup of vegan mayonnaise)
How To Make This Easy Vegan Sushi Roll Recipe: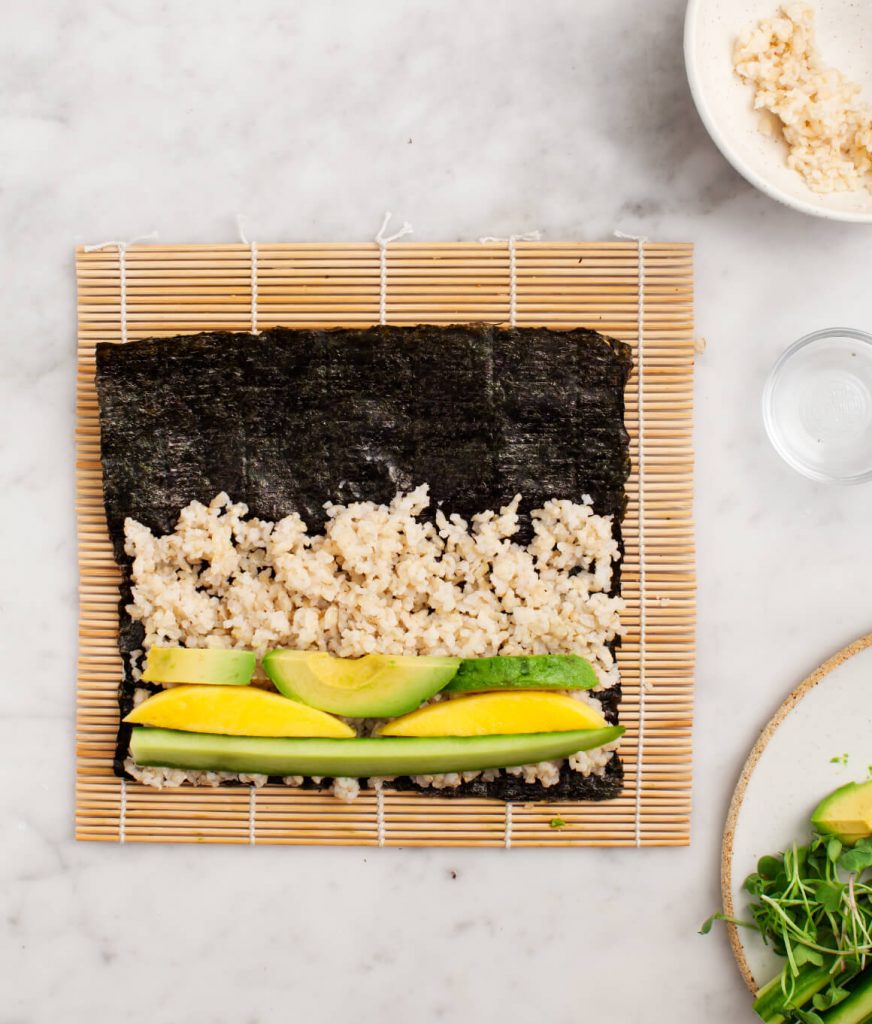 Cut the mango, cucumber and avocado into strips. Set aside.
Add the sesame oil to the rice along with a pinch of salt and mix well together. Divide into 3 parts.
Place a sheet of dried seaweed on top of the mat. Make sure to put the glossy side down.
Take one part of the rice and spread it to two thirds of the seaweed sheet. Press to flatten the rice.
Line strips of mango, avocado and cucumber and sprouts on top of the rice.
Gently roll from one rice-filled end of the seaweed towards the part that does not have rice. Adjust the mat so that the rice won't get in contact with it. When fully rolled. Gently press the sushi roll to shape it.
Do the same for the rest of the ingredients.
Cut with a sharp knife. Wipe the knife with a damp towel between cuts to prevent rice from sticking to it.
Add the topping and sprinkle with roasted sesame seeds.
Serve or pack in a lunch box with the dip.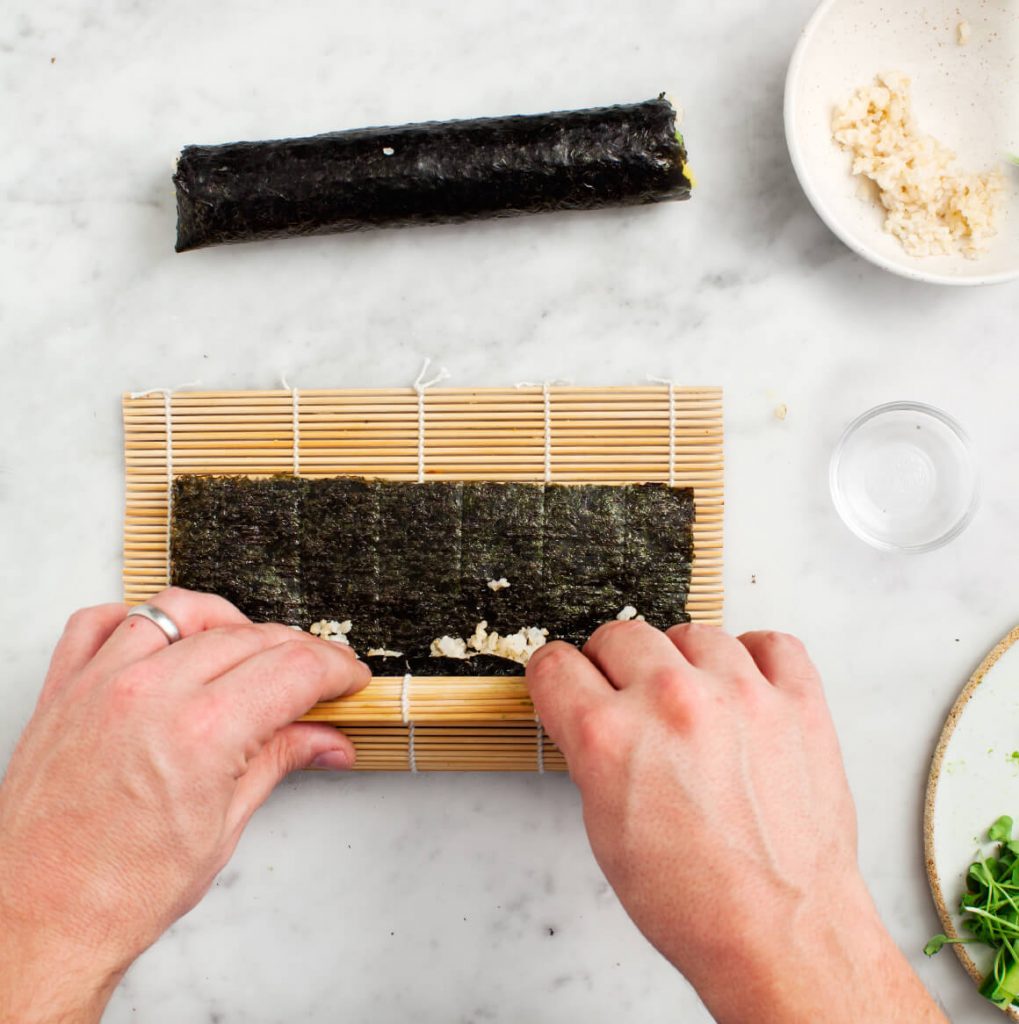 Please let us know if you've enjoyed this easy vegan Sushi roll recipe. This is not only great for lunch but makes an exceptional snack too. Try having it along with a glass of green smoothie infused with Elite Protein for a protein and energy boost.
You can also try our protein-rich recipes like this organic breakfast waffles and dessert.